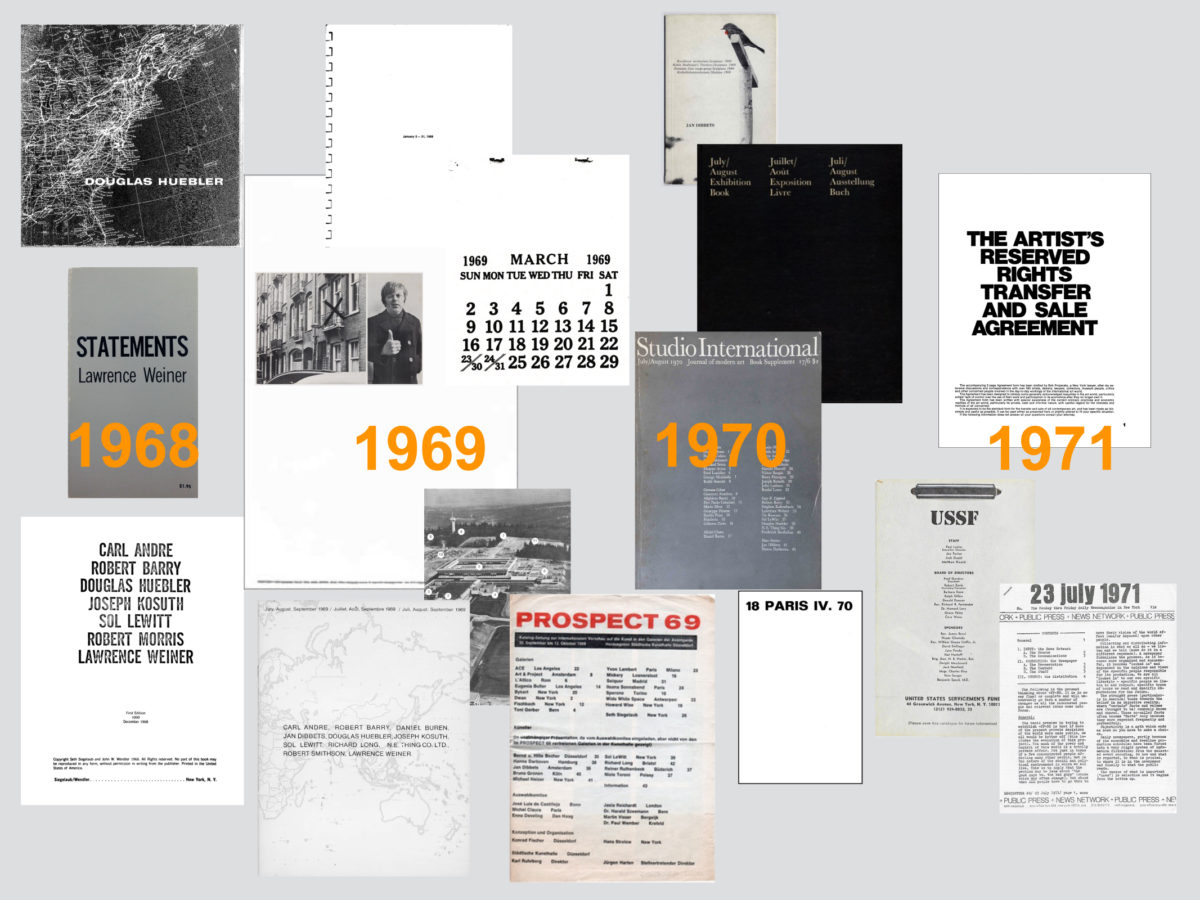 [From the university calender]
"You don't need a gallery to show ideas" konstatierte der New Yorker Kunsthändler Seth Siegelaub 1969 und präsentierte die von ihm vertretenen
Konzeptkünstler nicht wie üblich im White Cube einer Galerie, sondern auf den Seiten von Publikationen. Bücher, Zeitschriften, Einladungskarten und Ephemera waren die primären Medien seiner zwischen 1968 und 1971 realisierten Ausstellungen. Zu den im Seminar besprochenen Projekten zählt etwa die für das Buchformat konzipierte Ausstellung The Xerox Book, für die er sieben Künstler einlud, auf je 25 Seiten eine Arbeit zu präsentieren. Das Seminar bietet Einblick in Siegelaubs innovative kuratorische und verlegerische Praxis, die im Kontext weiterer wegweisender Ausstellungen und Projekte der 1960er- und 1970er-Jahre von Harald Szeemann (When Attitudes Become Form, 1969; documenta 5, 1972), Lucy Lippard (Numbers Shows, 1969-74), Marian Goodman/Lawrence Alloway (Artists & Photographs, 1970), Gerry Schum (Fernsehgalerie, 1967-70) u. a., betrachtet wird. Das Seminar fokussiert somit verschiedene Facetten eines historischen Übergangsmoments, in dem das Hinterfragen gängiger Ausstellungsformate sowie der Wunsch nach alternativen Distributionskanälen der Kunst, nach Demokratisierung und Partizipation, den Weg für ein neues Selbstverständnis der Ausstellungsmacher/innen und eine radikale Erweiterung des kuratorischen Raums ebnen.
Literaturauswahl:
Alberro, Alexander, Conceptual Art and the Politics of Publicity, Cambridge (Mass.): MIT Press, 2003.
Coelewij, Leontine, und Martinetti, Sara (Hg.), Seth Siegelaub: Beyond Conceptual Art (Ausst.-Kat. Amsterdam, Stedelijk Museum, 12.12.2015–17.4.2016) Köln: Verlag der Buchhandlung Walther König, 2016.
Ehleiter, Regine, "The Why And What Of: The New Context of Art", in: Pichler, Michalis (Hg.), Books And Ideas After Seth Siegelaub, Berlin: Sternberg Press, 2016, S. 10-15.
Mackert, Gabriele, "Katalog statt Ausstellung", in: Bosse, Dagmar et al. (Hg.), Der Ausstellungskatalog: Beiträge zur Geschichte und Theorie, Köln: Salon-Verlag, 2004, S. 100–115.
Rorimer, Anne, "Siting the Page: Exhibiting Works in Publications—Some Examples of Conceptual Art in the USA", in: Newman, Michael und Bird, Jon (Hg.): Rewriting Conceptual Art, London: Reaktion Books, 1999, S. 11–26.
Siegelaub, Seth und Harrison, Charles, "On Exhibitions and the World at Large. Seth Siegelaub in Conversation with Charles Harrison", in: Studio International 178, Nr. 917 (Dezember 1969), S. 202f.