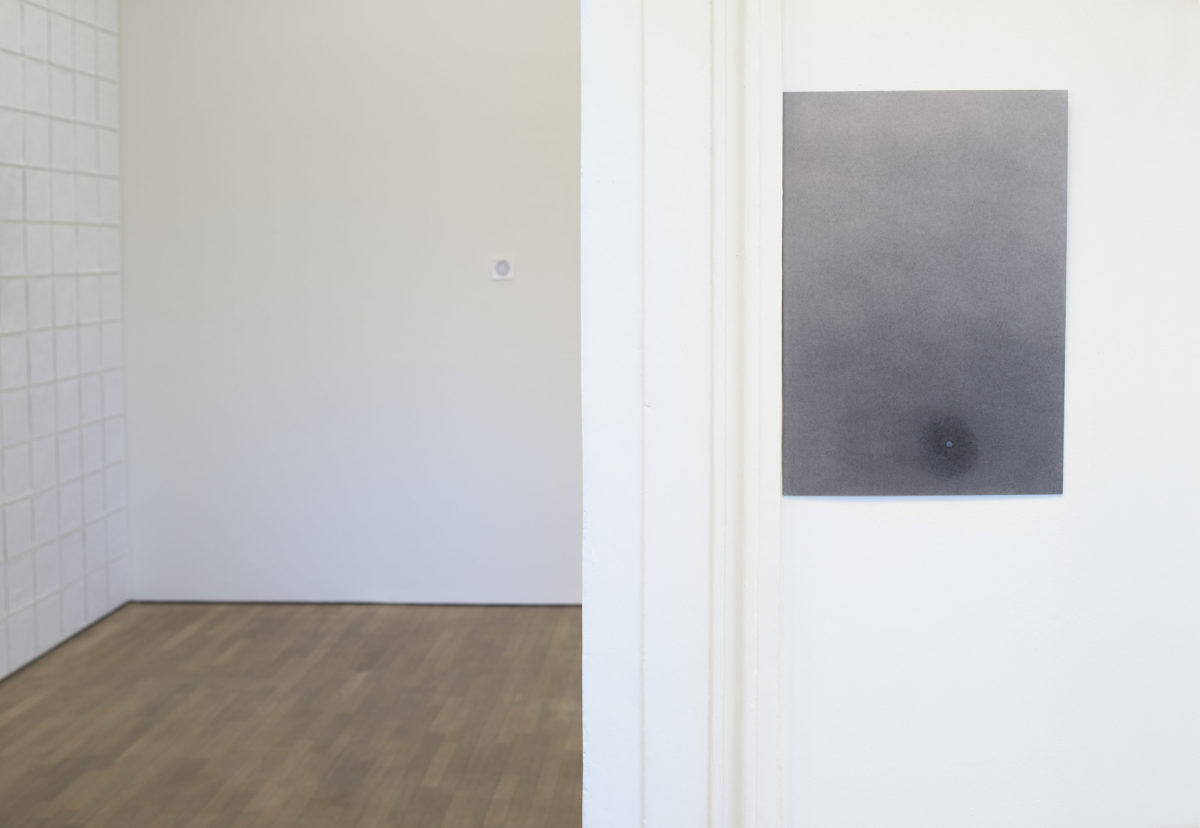 What's Unfolding examines the development and preliminary phases of an exhibition. The title poses the question as to what has come before, what is undefined, what has perhaps been left behind, exploring the initial stages and the winding paths that result in a certain form of display. To shed light on this process, the catalogue is of special importance. Several months before the opening, curator Regine Ehleiter invited each of the artists to design four pages in the catalogue and thus to present current works and ideas on the book's pages, similar to the walls of a gallery space. Developed for or adapted to the catalogue's format, these projects reflect the status of the exhibition at an early stage and serve to complement and augment the pieces shown in the museum itself.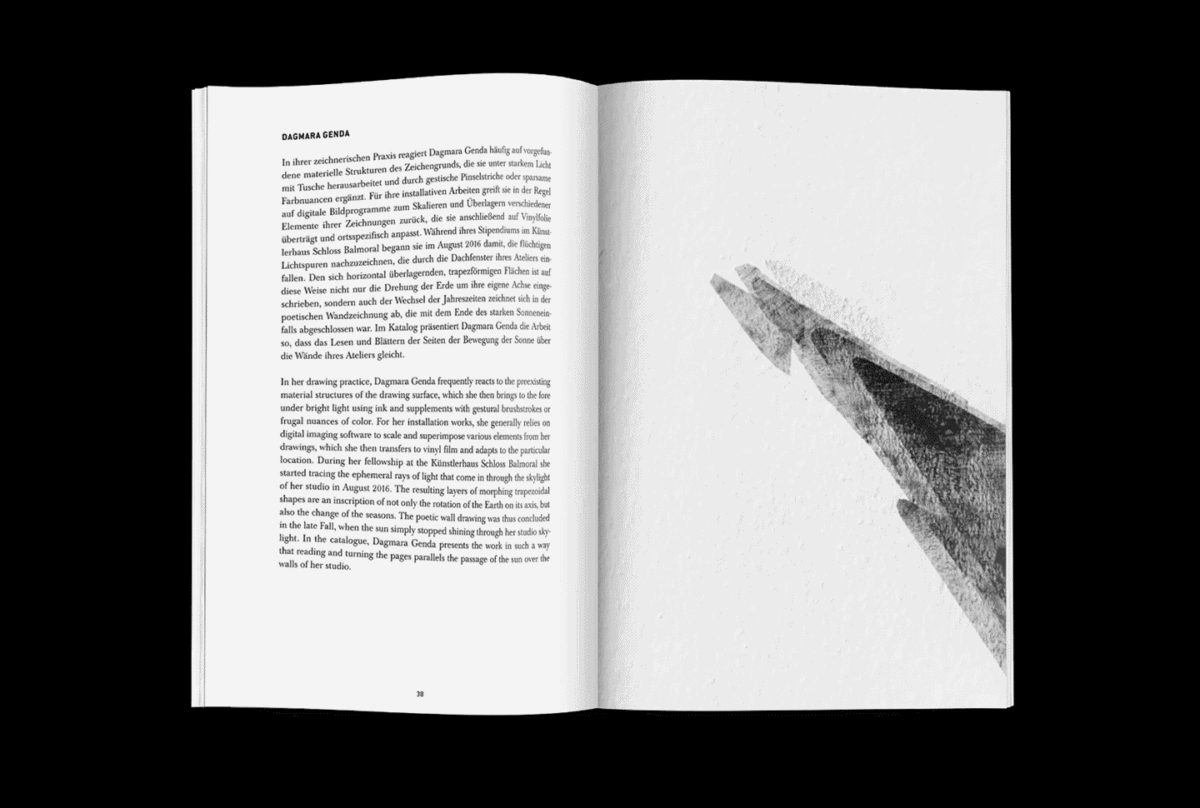 This year's theme Contemporary Drawing, which was also the thematic focus for applications to the 2016–2017 residency grants, lends itself especially well to reflections on the catalogue format as an additional space for exhibitions. Like photography, the medium of drawing seems predestined for presentation in book form. This year's artists-in-residence, however, understand "drawing" not just as work with pencil and paper, embracing instead a broad range of approaches, from William Engelen's graphic musical scores, to Ralf Ziervogel's series of body prints with gouache on paper, to Dagmara Genda's poetic works, which are often based on the pre-existing structure of the underlying surface and include digital reconstructions.
While David Semper utilizes the graphite markings of a pencil inserted into the museum's walls to focus viewers' attention on the materials of drawing, Danja Erni's project Zeichenstammtisch examines the social function of drawing as a medium of communication and non-verbal interaction. With delicate pencil works Christian Pilz explores the possibilities and limitations of graphic systems and fictions. Anne Gathmann's site-specific, multimedia installations include design drawings, which for her have value as artistic ideas independent of their material realization. Gabriela Oberkofler's drawings and installations portray the ambivalent relationship between culture and nature. This connects her work in turn to Rayeon Kim, whose wide-ranging practice is inspired by her interest in changes to the urban fabric of her native city, Seoul, Korea.
With astonishingly varied approaches to the medium of drawing, the exhibition demonstrates the current state of the medium of drawing through selected works by the nine artists-in-residence of Künstlerhaus Schloss Balmoral. Seven additional recipients of the Rhineland-Palatinate State Grant not bound to the thematic focus add further dimensions to the exhibition with their projects for the catalogue and the presentation at the Arp Museum Bahnhof Rolandseck. These include new film-based works by Eva Kietzmann (South Korea grant) and Jonas Weber Herrera (New York grant) as well as an installation with Christoph Medicus' Gegenfrottagen (Anti-Frottages). Drawings, photos and installations by project grant recipients Petra Mattheis and Markus Georg Reintgen as well as Paris grant recipients Anna Maria Tekampe and Matthias Glässer will also be shown.
A bilingual catalogue (German/English) published by Salon Verlag has appeared in conjunction with the exhibition. Edited by Oliver Kornhoff, director of the Arp Museum and Künstlerhaus Schloss Balmoral, the catalogue includes an introductory essay by curator Regine Ehleiter, short articles and a 64-page spread of artist projects. As a presentation space the book encourages readers to assume an active role, as they are invited to turn and bend pages and move backwards and forwards to maintain their orientation. Just as one wanders through an exhibition looking at one wall after another, the catalogue allows viewers to roam freely through its pages, enabling the images to interact with one another as well.
In cooperation with Künstlerhaus Schloss Balmoral and Forum Alte Post.